CIVIL – Center for Freedom organizes the multimedia event "For Freedom of Expression" on Wednesday, June 1, starting at 8.00pm, on Macedonia Street, near the Monument of Mother Teresa.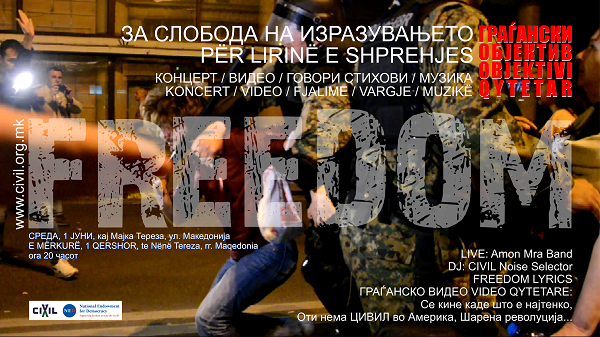 This event of CIVIL is dedicated to the freedom of expression, citizen journalism and activism. The program includes a concert of the Amon Mra Band concert, DJ set by CIVIL Noise Selector, freedom lyrics (poetry performance) and video screenings of contributions of citizen journalists that have been published within the framework of the Civic Lenses Project.
Representatives of CIVIL and guests of the program will also express their own messages on freedom of expression.
"On thin ice", "Why isn't there a CIVIL in America", "Colorful Revolution" are just some of the titles of the short videos that have been created by citizen journalists who are reporting on the Colorful Revolution, violation of human rights, voting rights manipulation, and social injustice.
---
The event is organized within the Civic Lenses Project, financed by National Endowment for Democracy.