Almost a thousand people from Strumica expressed their warm welcome to CIVIL – Center for Freedom yesterday night at the Small city park in Strumica, where CIVIL was promoting citizen journalism.
With the slogan "We are the media! Citizens observe, record and publish", the event was full of contents - video screenings, music, poetry and speeches. The audience viewed the recently awarded contributions of citizen journalists from across the country. Suzana Miceva and Gorgi Kalajdziev, intellectuals from Strumica, and Xhabir Deralla of CIVIL held poetry performances.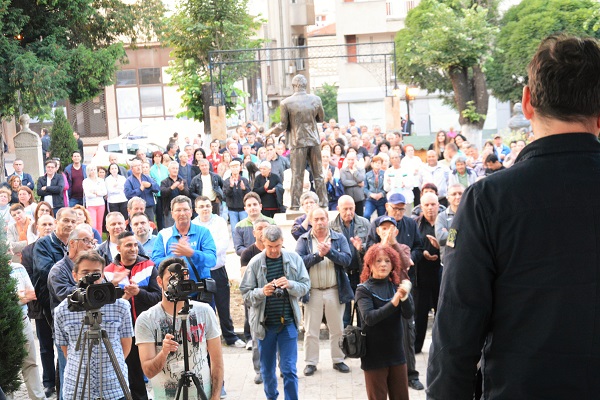 Civic activist Lence Hristova of the Strumica Women Organization welcomed CIVIL at the event. She urged the citizens to continue the fight for freedom, equality and democracy and not to confront political pressure and threats.
The editor of CIVIL Media, Sinisa Stankovic, welcomed everyone who had participated in the Civic Lenses Project, as well as prominent public figures, journalists, artists, photoreporters, experts and professionals who provided lectures and other support to the project. They, as well as prominent human rights activists and leaders, shared their knowledge and experience with the citizen journalists, which they can now use in their reporting on the reckless violation of human rights.
At the end of the event, Xhabir Deralla, called upon the citizens to report, record and publish all violations of human rights and freedoms, in particular those that are related to the elections and voting rights. Despite the blindness and deafness of the public radio and television, despite the denial of the regime's television stations, portals and newspapers for whom tens of thousands of citizens demanding justice and freedom on the streets – do not exist, Deralla stressed that it is the citizen journalists that disclose facts of truth throughout the entire country.
The public event, which the citizens of Strumica followed with great interest and pleasure in regards to the contribution of CIVIL in their fight for changes in the governance and for the democratization of the Macedonian society, is within the framework of the Civic Lenses Project, financed by National Endowment for Democracy.