"We participate, observe, report" is the slogan of the new series of regional seminars for citizen journalism, which CIVIL is implementing in the third year of the implementation of the Civic Lenses project.
The first seminar of the new series was held on November 18, in Skopje. The participants at the seminar were introduced with the world of media, with the influence of citizen journalism in the world and here in our country. The seminar also includes practical curriculum with basics of recording and field work with preparation of video stories. They are already active on the ground and are recording!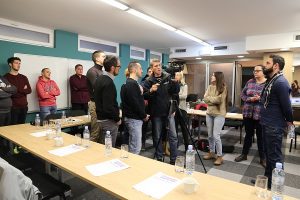 The project is dedicated to transparent and accountable political processes through support and popularization of citizen journalism. Citizen journalism is of great significance in society, as a tool through which transparency and accountability of institutions and decision makers at the local and national level is encouraged.
The project also contributes to awareness-raising, civic education and activism of citizens who strive towards the respect of human rights, freedom of expression, democracy, and free elections.
The project is supported by National Endowment for Democracy.
This post is also available in: MacedonianAlbanian