Just two days before the start of the election silence, wiretapped telephone conversations have been published of officials from the government and figures considered close to the government, but also of figures from the opposition like former Minister of Interior, Gordana Jankulovska, on the Russian social network VKontakte from an anonymous profile, named as Ilija Gromovnik.
On Facebook, on the other hand, there are several profiles with the same name that propagate a boycott of the upcoming presidential elections.
More interesting is the fact that the published conversations are first shared by the Facebook page Treta politika (Third policy) associated with Ljupco Palevski.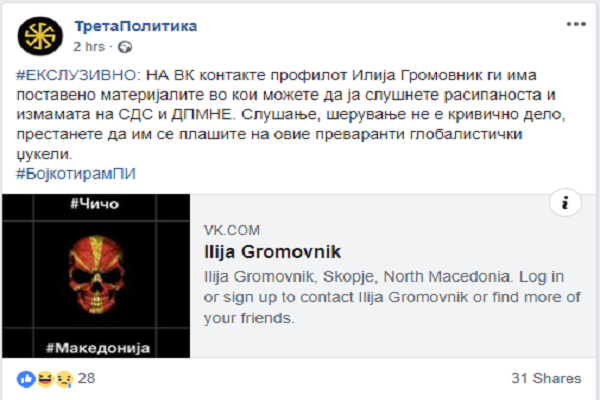 For now, from the Ministry of Interior and the Special Prosecutor's Office there is no more information, except that they are surprised by the published conversations. The SPO, in a statement for TV 24 guarantee that no material has leaked from them and announced checking whether they own these conversations.
According to the content of the published conversations, it concerns material that has not been published until now.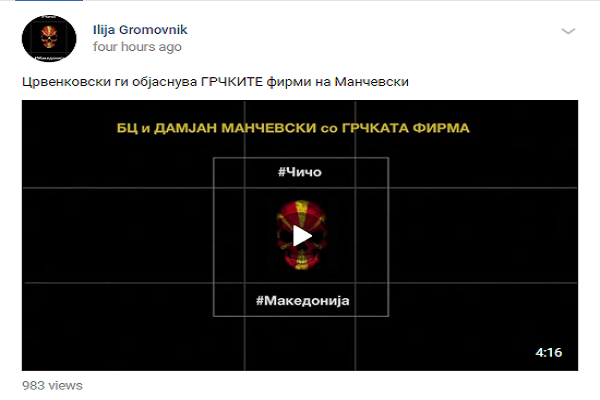 A scandal is on the horizon related to the wiretapped conversations that are part of the long negotiations between the government and the opposition. Namely, in this period the attempt was prevalent of the opposition, through negotiations with the government, to manipulate the role and competencies of the SPO, and to marginalize the wiretapped conversations as evidence in the court proceedings against former senior government officials, including also former Prime Minister Gruevski.
Indeed, the government is now negotiating with the party that organized the mass wiretapping and was carrying out a criminal government, about the fate of the SPO that is persecuting precisely them.
In a time when the SPO and the justice that is being expected from its work are concerned, the publication of these wiretapped conversations through a Russian social network, first shared by the radicals of the Third policy, is a scandal and an ironic reminder that those who caused one political crisis cannot be part of the solution for that crisis.
CIVIL Communication Team
This post is also available in: Macedonian